21st January 2020
Nicole's expedition to solve the plastics puzzle
University of Queensland PhD candidate and EarthCheck Project Manager Nicole Garofano will soon be on the sea voyage of a lifetime, helping tackle the world's ocean plastic crisis.
Ms Garofano is one 300 women involved in the eXXpedition program, facilitating scientific studies and allowing participants to explore solutions to ocean plastic, whilst connecting with a global network of multidisciplinary women researchers.
Her journey, from Cairns to Darwin this July, will take her through the islands of the Great Barrier Reef, the Torres Strait and the Gulf of Carpentaria.
"Not being a sailor, per se, I'm a little nervous about being in open waters for at least 10 days of the voyage," she said.
"But I'm keen to experience first-hand the presence of plastics in the oceans off our coastline, and particularly in the Great Barrier Reef."
She is no stranger to the problems of plastic waste in island communities, having lived in, and travelled to, island states around the world over the last 15 years.
"My PhD research focuses on the movements of plastic food and beverage packaging materials to and through small island developing states," she said.
"Being able to participate in eXXpedition adds the missing piece of the puzzle as my research focuses on land-generated issues from these materials, not marine.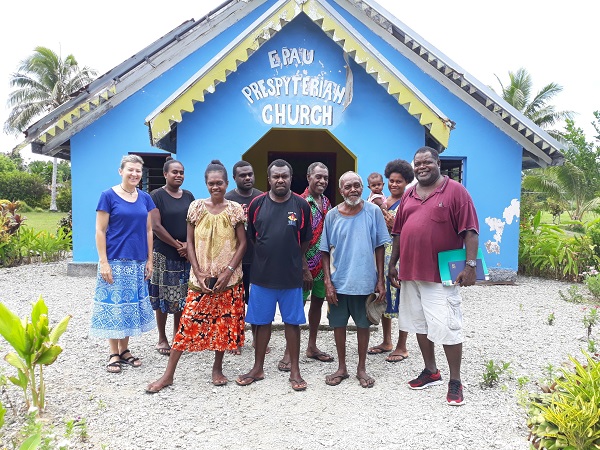 Ms Garofano (pictured left) has been working diligently with communities in island nations, like this one in Vanuatu, to reduce plastic waste pollution.
"I've seen first-hand the challenges communities face in many developing nations, and there are really two solutions needed to solve this plastics puzzle.
"The first is to address separation of materials, and collection – with collection being the big challenge.
"In Asia, where just over half of the world's population resides, there are serious capacity issues in managing solid waste, including plastic.
"If we can at least find a way to capture and collect these plastics, this would be a great help.
"The other part of the puzzle is the presence of fishing gear - depending on which study you refer to, fishing gear makes up some 50 per cent of the plastic in the ocean.
"So we need to do some serious education and enforcement with our global fishing fleets as well."
Ms Garofano is counting down the days – ready to sail away from the harbour while adding valuable knowledge and experience to help pursue her passion – to make a difference for island communities and the world's oceans.
"The eXXpedition is the first of its kind in conducting marine plastic pollution research," she said.
"Conducting research while sailing as part of a team of 300 women on a global voyage, many of whom are not sailors, who then continue to be ambassadors for the mission to share knowledge and act as changemakers, is truly remarkable.
"It's time to learn, educate and help change perspectives and actions around plastics."
EarthCheck is proud to be supporting a portion of the journey via its not-for-profit EarthCheck Research Institute, further fundraising contributions can be made to Ms Garofano's journey via her GoFundMe website.
Source: University of Queensland